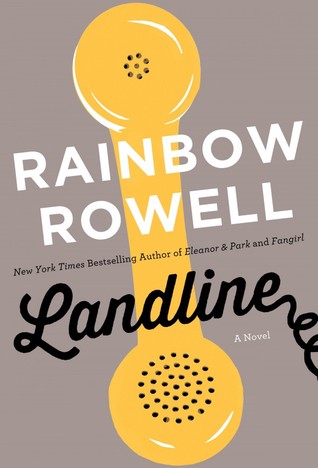 From
Goodreads
:
Georgie McCool knows her marriage is in trouble. That it's been in trouble for a long time. She still loves her husband, Neal, and Neal still loves her, deeply — but that almost seems besides the point now.
Maybe that was always besides the point.
Two days before they're supposed to visit Neal's family in Omaha for Christmas, Georgie tells Neal that she can't go. She's a TV writer, and something's come up on her show; she has to stay in Los Angeles. She knows that Neal will be upset with her — Neal is always a little upset with Georgie — but she doesn't expect to him to pack up the kids and go home without her.
When her husband and the kids leave for the airport, Georgie wonders if she's finally done it. If she's ruined everything.
That night, Georgie discovers a way to communicate with Neal in the past. It's not time travel, not exactly, but she feels like she's been given an opportunity to fix her marriage before it starts . . .
Is that what she's supposed to do?
Or would Georgie and Neal be better off if their marriage never happened?
This will be more of a discussion than an actual review.
I just got married (just as in July 5th), so Rowell's latest, Landline, really hit home. Georgie is a successful TV comedy writer who is married and has two little girls. Her husband, Neal, is a stay at home dad as Georgie works long hours with her writing partner and best friend, Seth.
This was a book about what can happen to those of us with the best of intentions. No one gets married, or enters into any relationship, with the intention of being a inattentive partner, but it happens so frequently. We all have things in our lives (jobs, kids, hobbies, etc.) that may lead us to choose our partners second, or third, or even last. We don't mean to do this, but it's life, and we all assume that because they love us, they understand. Perhaps they do, but it doesn't mean it's right. No one can put someone first all the time. That's not reasonable, but it's not unreasonable to ask to be put first sometimes.
For Georgie, she's put her career before Neal countless times, and it's finally bitten her in the butt. Truthfully? I cheered when Neal left for Omaha with the girls. Not because I wanted Georgie to suffer or hurt, but because she needed him to do that for the sake of their marriage. For her own sake as a person. I'm not going to pretend to be a seasoned wife who knows all, as I've only been a wife for a few weeks, however, I've been a human for 27 years. My husband and I may be very co-dependent on each other, but if we have a few busy days where we don't have that much time for each other, we get cranky. We need our time together, and I honestly hope that never, ever changes. We don't have kids yet, so that very well may change, but I hope it doesn't change to the point where we become complacent. In any relationship, it takes two and Neal is definitely part of the problem. He never seemed to ask much of Georgie. I think there was a lack of communication, that is, until the magic yellow phone.
I love Rowell's characters because they're always so real. They're you, me, and the man next door. I can always find at least one character to relate to, and usually find myself in each character in some way. This book read a bit like a warning to me. I don't want to be Georgie. Yes, I want to be a successful career woman and I always wonder how I'll be when we do have kids and if I'll want to return to work, but I want so much more than that. I want a family. I want a relationship with my husband, and our kids, and those around us. The thought of becoming Georgie and feeling like an outsider in your own family scares me. I can see myself thinking about this book and Georgie years from now. The story, minus the magic phone (though how cool would that be?!?), can happen to anyone, and I refuse to let it happen to me.
I would recommend this book to those, like me, who are newly married, but especially to those who have been married for years and who are in the throes of busy. Heck, you don't even have to be married to relate to Landline and that is what makes Rowell such a great writer and one I will always return to.
4 out of 5 stars based on Goodreads rating system.