Last year I read
Dorothy Must Die
by Danielle Paige (
review here
) and fell in love. When I heard that it was going to be a series, I was pretty excited and started the countdown until the second book.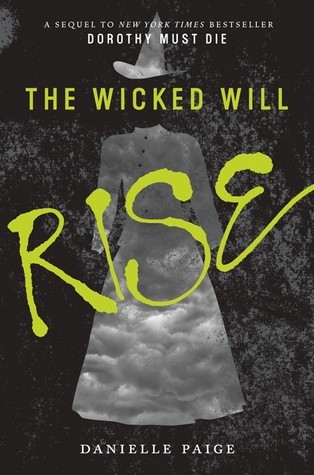 Goodreads Synopsis:
To make Oz a free land again, Amy Gumm was given a mission: remove the Tin Woodman's heart, steal the Scarecrow's brain, take the Lion's courage, and then Dorothy must die....

But Dorothy still lives. Now the Revolutionary Order of the Wicked has vanished, and mysterious Princess Ozma might be Amy's only ally. As Amy learns the truth about her mission, she realizes that she's only just scratched the surface of Oz's past—and that Kansas, the home she couldn't wait to leave behind, may also be in danger. In a place where the line between good and evil shifts with just a strong gust of wind, who can Amy trust—and who is really Wicked?
My thoughts:
This was nothing like
Dorothy Must Die
. I feel like nothing really happened. Yes, there was one big issue dealt with (not going to spoil it), but beyond that there was a lot of Amy questioning herself. Am I good, or am I evil? Where do I belong? I got tired of her questions. We get it, you're angsty.
We did learn more about Ozma, and I'm starting to like her character, but there wasn't a lot of character development for anyone else. I was definitely let down by this book, which is unfortunate. I expected more after the action-packed first book, but I didn't get that.
I was also disappointed by the length.
Dorothy Must Die
was 452 pages and this one was 293 pages. That was probably a good thing, considering that nothing really happened, but still.
It wasn't all bad. I did like some of the new characters we were introduced to and I loved the monkey lair. The ending did leave me wanting to read the next book, so it's not like I'm going to abandon the series, but I think this was suffered from second book syndrome majorly. Here's hoping that the third book is more reminiscent of
Dorothy Must Die
.
I rated this 3 out of 5, but it's probably more like 2.5.