A couple years ago I wrote a post on
why you should be reading Morgan Matson
. Since that post, I've read Since You've Been Gone and her latest, The Unexpected Everything, and I can 100% say that everything I said in that post still holds true today.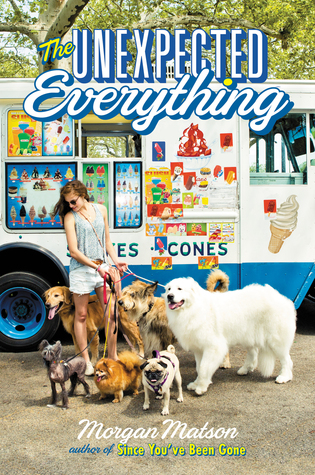 In
The Unexpected Everything
, we meet Andie who has always been the girl with the plan. Until she was the girl with no plans. As you can imagine, this completely throws her off and leaves her disheveled. To top it all off her congressman father, whom she's not really close with anymore, is being investigated and is home for the entire summer.
I loved the relationship between Andie and her father. It developed perfectly and really left me feeling good. Matson always has positive family relationships in her books and that's something I really like. It's easy to write about the dysfunctional family, but it's important to write about the realistic family. Mind you, Andie and her dad go through their fair share of dysfunction but they end up becoming much closer because of it. I loved seeing her dad really own up to being a good father figure for Andie.
Since Andie has no summer plan, she ends up walking dogs for the summer, which sounds like the perfect summer job to me. Who doesn't want to spend time outside in the sunshine with happy dogs? Add in the adorable guy she meets, Clark, and hello, perfect summer. Except it's not a perfect summer because there is no such thing. Clark is fantastic. He is absolutely everything that Andie needs and he's her complete opposite. I think Clark may be my favourite Matson guy so far. He's mature but super nerdy. Sweet, but not afraid to be tough if he needs to, and what he does for a living is super impressive.
Another thing I love about Matson's books are the friendships. She always seems to write about positive friendships, which is sometimes rare in YA. There are no frenemies here, and I love that. Andie has three best friends, Palmer, Toby, and Bri and I loved them all. They each had their own thing going on, but they were always there for each other. Like every friendship, they do have their issues but they aren't catty and mean to each other. I loved trying to decipher Toby's emoji conversations. They were pretty hilarious!
Andie ends up having the absolute perfectly unplanned summer and it's everything she never knew she needed.
This is the perfect summer book to completely lose yourself in on a beautiful day. Cute boys, friends, dogs, ice cream, and an awesome scavenger hunt. This book made me want to go back to being 16, and that doesn't happen very often. Definitely go and pick this one up. It's on sale today!
SimonTeen (Simon and Schuster Canada) provided me with a copy of this book for review, but that didn't sway my opinion at all.