I discovered Sarah Dessen about 10 years ago. I had just graduated high school, and my family had rented a cottage for a week. I was a reader back then, but definitely not like I am now, so I wasn't up on all the popular authors. I was browsing my local bookstore because I wanted a book to take to the cottage when I spotted the gorgeous covers that could only belong to Sarah Dessen. I can't remember if I grabbed The Truth About Forever or This Lullaby (I think it was TTAF), but after I read it, I was hooked.
I've always been disappointed that I didn't discover her books until after high school because they would have helped me a lot during that time. Sarah Dessen just
gets
it, you know? I can always relate to at least one of her characters and her books always make me feel super nostalgic.
That being said, I was starting to worry that I was growing out of her books. I enjoyed The Moon & More, but didn't feel the same way about it that I had with her other books. And that's okay, but I was worried that perhaps I was just too old to identify with her characters.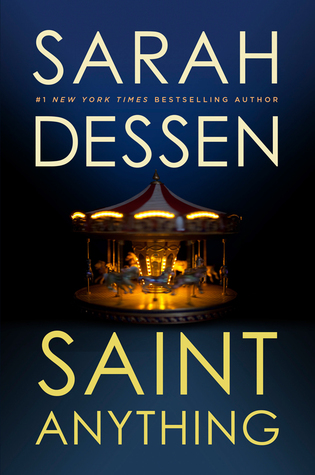 Enter Saint Anything, Dessen's newest release. Oh, how I loved this book! I identified with Sydney so much, even as a 28 year old married woman. There have been times when I've felt like the outsider of my family, the one who is a little different. I have two older brothers, and sometimes my personality is a little more quiet than theirs, which again, is okay. It can be hard to feel invisible, though.
I loved the Chathams so much. Layla, Mac, and their parents. I even found an appreciation for their sister by the end. Ames was deeply disturbing, and I felt creeped out every time there was a scene about him.
Sydney was a fantastic main character. She was flawed, but she knew that. She never claimed to be perfect in any way, but that just made her more appealing. Layla was definitely reminiscent of a lot of girls I knew in high school. Quick to fall in love (with the wrong person) and perhaps a tad naïve about love (who isn't?), but deep down, a sweet and smart girl. I always finish a Dessen book wondering where these people were when I was in high school. I'm sure they were there, and I would have loved to have been friends with them.
This book reminded me that I'm not too old to be reading Sarah Dessen. This book reminded me that it's okay to be invisible, because there is always someone who will see you. Those are the people that you should focus on. Those are the people that matter.
I'll be 50 and still reading Sarah Dessen novels, and I'm so happy about that.